Patient care is supreme at Duggal Eye Hospital Jalandhar Punjab. Since our birth in 2005, we have consistently worked to build and sustain public trust in our eye care services. We have invested our resources to get you the best eye doctors and skilled surgeons supported by requisite infrastructure and Modern eye care equipment.
Because of our commitment to these goals and the best service delivery for our patients visiting us from within and outside the country, we are now among the best eye hospitals in the Jalandhar and the Doaba region of Punjab in North India.
Technology is profoundly impacting eye care as robotics and artificial intelligence have revolutionized the field of ophthalmology. Modern surgical Lasers have made it possible to treat a wide range of eye diseases more accurately and effectively. Consequently, we have procured the best-in-class ophthalmic diagnostics and therapeutic equipment at Duggal Eye Hospital Jalandhar.
We have taken the lead in accurate disease diagnosis and treatment with the best eye care technology and highly skilled eye doctors. In addition, we have set up state-of-the-art Modular Operation Theatres fitted with HEPA filters rendering clinical-grade sterilization, and meeting international standards of preventing infections during all eye surgeries.
Here are some additional advantages that we have while treating our eye patients for various eye diseases.
Early Disease Detection: We use the latest Optical Coherence Tomography (OCT) and Fundus Photography to help our ophthalmologists find and diagnose eye diseases early on before they worsen. This makes eye treatment much more likely to work and keeps people from losing sight.
Accurate Diagnosis: Modern diagnostic equipment gives our eye doctors high-resolution images of the eye, which they use to diagnose eye diseases with their clinical assessments more accurately. This ensures patients receive proper care, increasing their chances of doing well.
Personalized Treatment: With these latest technologies available, our ophthalmologists make treatment plans that are just right for each patient. This is especially true for patients with complicated eye diseases or who have undergone eye surgery.
Minimally Invasive Surgery: Femtosecond lasers and other advanced surgical tools are used to perform minimally invasive surgery on the eye. This reduces the chance of complications and improves the patient's visual health. We have procured several platforms of modern Lasers, including Femto and SMILE from Swiss manufacturers Ziemer's, to ensure safe and precise laser vision corrections.
Shorter Recovery Time: Newer therapeutic tools, like selective laser trabeculoplasty (SLT) or intravitreal injections, can target specific parts of the eye. This means that patients can heal faster and feel less pain.
Improved Patient Experience: New cutting-edge technology-powered equipment helps our doctors make diagnostic and Laser treatment procedures faster and more comfortable for patients, enhancing the overall experience.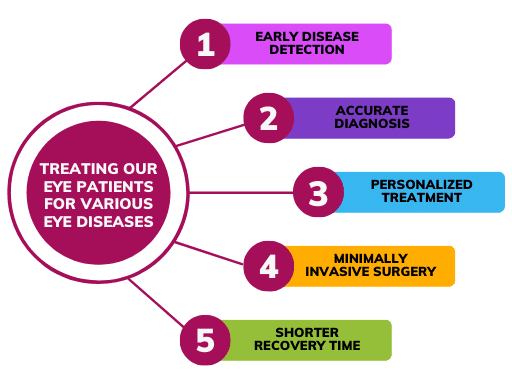 Technology in modern Eyecare
Today it is a profound reality that equipment & Technology has changed the field of ophthalmology, making it possible to detect and treat eye diseases more accurately and effectively. In addition, early diagnosis, personalized treatment plans, minimally invasive surgery, and shorter recovery times enhance patients' treatment experience.
we have pioneered using the most modern eye care technologies at Duggal Eye Hospital Jalandhar for advanced diagnostic and eye treatments. Eye Hospitals must keep up with new technology to give their patients the best care possible. And that is what we are precisely doing at Duggal Eye Hospital Jalandhar, and no wonder we have consistently been accredited by the National Health regulator – the NABH.
Come and experience our eye care services & benefit from the skill of our top doctors & eye surgeons who will serve you to the best of your expectations here at our best eye hospital in Jalandhar.